Resin Driveways in Bristol
Add The Wow Factor to your House for 2016.. Our Resin Driveways in Bristol have gained a reputation for providing Bespoke projects with superb customer services.
We are specialists in resin-bonded & resin-bound stone/ gravel driveway, path and patio surfacing, Resin Stone/ gravel is a remarkably durable treatment – Manufactured to last for 25 years – and is a budget friendly, environmentally friendly and beautiful alternative to conventional surfaces such as tarmac and block paving of which both look nice for the first year. Resin stone surfaces are now the rolls royce of all exterior applications as we head into the 21 century with this eco product.
You can select from 40 different types of natural granite colours, or even pick one of our blended colours using upto 3-4 different types of granite stone and benefit from a puddle-free, weed immune surface with no loose stones, but a neat traditional finish..!
A Resin driveway to improve your Bristol Home
Resin Bound and Bonded Surfacing systems symbolize an inexpensive alternative to the more traditional surfacing materials creating a long lasting drive, almost maintenance free surface area which is eco friendly and pleasingly decorative. Resin Bound and Bonded Surfacing systems can be applied to most driveway surfaces and can be completed relatively quickly minimising any disruption to your property.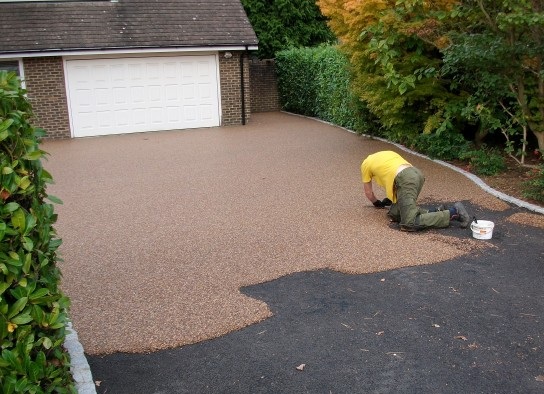 Resin driveways which look great and last longer
An array of natural and recycled aggregates are readily available, making it ideal for your driveways in Bristol and a very good alternative to block paving, tarmac, and concrete finishes. Not only is a resin bonded or bound surface ideal for your driveway, it can also be put to use in the following applications in your Bristol home:
Stonework
Paving slabs
Patios
Garage floorings
Block paving
Existing Surface Overlay
Resin Stone Overlays are effectively surfacing over your present block-paved, tarmac or concrete driveway, path or patio area.
Resin stone driveway overlay
Resin Stone Overlay treatments are a very cost effective and quick way of updating your surface in the Garden or in the Driveway.
Get A Quick Quote…resin driveway cost
We're positive we are able to beat most quotes and complete your installation to a far better standard than our competitors…
Had a quote already and need a second – or just want a competitive quote – you'll find our prices attractive and our customer service remarkable!
Just click here to fill in our Quick Quote form. Please try to give as many details as you can so we can assess your project prior to sending you our fixed quotation…
We initially prepare the existing surface using a high-pressure jet washer system and primer, before applying your selected resin stone combination.
Overlays ordinarily take 1-2 days with minimal inconvenience or disruption caused to your property or your lifestyle.
We also offer a range of natural or blended stone and surrounding landscape design options which includes moon stone to truly personalise your resin installation.